Off-duty model wear has become increasingly popular in the fashion world as people turn to social media for outfit inspiration and often see their favorite models looking amazing in casual paparazzi shots. The cool girl vibes and absolute casual comfort that coincide with adopting the 'model look' for your next ootd are enough to make anyone swoon. KENGI (Kendall Jenner and Gigi Hadid for those of you who are clueless) are perhaps the ultimate stars of this movement, as they are totally #goals in every way possible.
Both girls do an amazing job at setting trends that are doable and take a unique perspective that says "raised in LA but born for NYC". Even better, however, is the fact that while their looks are fabulous, they are equally versatile and can help you play it safe with your clothing choices. Gigi often opts for an integration of more classic pieces, which I generally relate to, but yesterday I subconsciously channeled my inner Kenny J. I'd have to say that she is the ultimate cool girl right now, as I feel like she's always wearing black and just downright slaying.
Now over the past few years we've seen graphic tees take home a lot of wins, and the key to all of that, is finding unique ones that represent something you love (whether it be a political statement or one about brunch). I opted for a Keith Haring t-shirt because, as one of my dad's favorite artists, I've grown up loving him. It sort of has a slight edge that could almost resemble a band tee I could envision Kendall wearing. Pairing it with a mid rise straight leg pant that was soft as ever, some pointed booties, and a hoop earring, I was ready to go.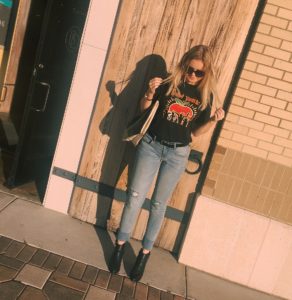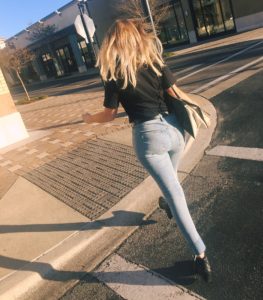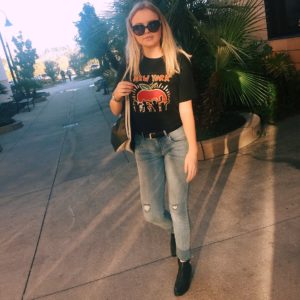 For this look I decided to finally wear pants other than my boyfriend jeans, but I didn't want to miss out on an opportunity to integrate menswear inspiration (one of my eternal favorite trends). So, my belt is actually a Coach men's belt. I call it the "boyfriend belt", or the "stole it from my dad's closet because it looked cool and I don't have a boyfriend belt", whichever you prefer.
A fun way to make your look a little more girly in this scenario is simple: your sunglass. I opted for my favorite Dior cat eye; the shape reminds me of Audrey Hepburn and the floral pattern of Swarovski crystals on the sides give it an ultra feminine touch. My outfit doesn't have too much rock 'n roll to it, so the different styles were able to blend together really cohesively and I could maintain my own twist on it all!
As usual, I tagged the original brands on my Instagram @zoebrine and am supplying you with some similar items below to create this look, since my specific pieces are no longer for sale. I always try to maintain similar quality/price range when selecting alternative items, but even better for this look, I was able to keep to the original brands and stores for the most part as well!
Shirt | Jeans 1 | Jeans 2 | Belt | Boot 1 | Boot 2 | Earrings | Bag | Sunglasses